Know how to 3X your sales with Visveya on Myntra/Limeroad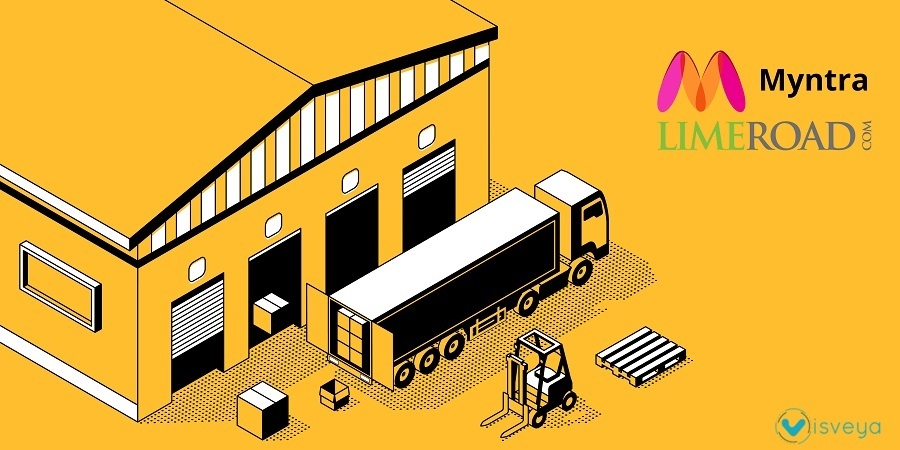 In 2018, India recorded 450 million internet users expected to grow by 62% by 2020. So the market size for online business bloomed to a significant portion of the population. And now with COVID-19, this figure has even raised higher. Among all, the top leading players in e-commerce for apparel and fashion are Myntra and Limeroad. Though Limeroad was launched in 2012, it still managed to develop into a reliable marketplace, displaying more than 750 brands, including local and global brands.
How to launch your brand online on Myntra or Limeroad?
The first step to launch your brand on Myntra, Limeroad, or any top apparel marketplace requires registration of the vendor account. Take a look at the checklist and have a clear path for launching your online store. You may need documents like E-mail id, gender, GSTIN Number, Cancelled Cheque, Address Proof, Pan Card, Digital Signature With Company Stamp, Trademark Certificate, Authorization Letter
After submission and verification of the documents is done by the e-commerce organization. It sounds easy, but in reality, it's a hard nut to crack. Many people fail to have an authorized account due to incomplete application or lack of documents. A vendor dashboard is provided through which you can add the products and get details of orders and returns.
How your brand value can be effected on the Top Marketplaces?
– Delivery time: According to a survey conducted by Dotcom Distribution, online shoppers pay more attention to the delivery time. More than 60% of people are willing to pay extra for speedy same-day delivery for special events like birthdays and anniversaries. This is why same-day delivery options are hit, though the price of the product is hiked to provide this service.
– Type of packaging: More than 65% of people believe that good packaging resembles a good brand. For many people, online delivery seems to be like a present. Opening packages make them feel like opening a gift, and everyone likes nicely wrapped gifts. The way the product is packed ensures safety while shipping them.
– Returns and refunds: This plays a crucial role in gaining the trust of the customer. Earlier, when online shopping was new in the Indian market, the significant concerns of shoppers were -return and refund policies. The return or refund process should be rapid. A return or refund request does not determine that the shopper won't repurchase your products. But slow and rigid refund or return policy may result in losing the customer forever.
The vendor needs complete monitoring for 24*7 to cater to all types of requests like order, return, or refund. Even the vendor needs to pay attention to the product shipping and real-time location of the product. But the management of various processes simultaneously without mistake for 24 hours may be somewhat tricky. So what can be a possible solution to this problem? The answer to this can be hiring a third party expert consultant for managing the complete end to end solution,
Visveya- the complete solution
As we discussed the factors which may affect your brand value and business on top online platforms like Limeroad and Myntra, Visveya has a complete solution to tackle all the issues. But why should you hand over your store responsibilities to Visveya?
Benefits to choose Visveya
– Complete management of inventories:
Myntra and Limeroad deals in apparel, and the stock may fluctuate according to season and trends. So sometimes you may have enough room to store your inventory. And in some months you will face a shortage of space. So rather than taking a new warehouse every time on peek-time of the sales, take the help from Visveya. It can help their clients to handle this situation. They offer inventory management services and then you don't have to take the headache of space regardless of the sales rate.
– Takes hold of the complete shipping process:
From packing to delivering the order to the customer, Visveya can manage the entire process. This may include many sub-processes like:
Finding the correct box or wrapper according to the product's size
Adding some protection to the product by layering it with bubble wrap or other similar things
Optimizing space to fit all the items in the box
Securing the package with strong tape and attaching the label with all the details of the order
Taking all the products to post office or courier services to deliver the product
Making a report of the shipping route and tracking the exact location of the product
Visveya can manage the complete process, regardless of the volume of packages. If you try to perform these steps yourself, you may end up investing many hours to complete it, which can increase the cost.
– Save time on order-fulfillment and enhance business:
Taking care of each package and tracking its location every hour may consume a lot of energy. You may need to coordinate with so many people like the delivery organization, the staff at the warehouse, people managing vendor portal, etc. This can be troublesome, and you won't be able to plan your marketing & sales strategy. As Visveya will be managing the complete order fulfillment process, you have ample time to plan your business strategies, and Visveya will be responsible for the delivery.You will be able to focus more on business and develop effective strategies.
– Splitting the warehouse for faster delivery:
When you manage your warehouse operations yourself, then you will possibly have your warehouse in at one single location or city. But to offer speedier delivery, you need to split your warehouse into different areas. Visveya can help with this too. With warehouse management services, Visveya takes care of the location and inventory. It splits the inventory into different warehouses while balancing the feasibility.
– Hiring expert team with affordability:
Having expertise in one skill can be fruitful or that person. Similarly, Visveya is a team of experts dealing with complete order fulfillment and reverse logistics processes for e-commerce. They even know how to get things done under a tight budget. So vendors can take benefits from their skills and experience to improve their services for online shoppers and even save a lot of time and money.
These were a few ways through which you can 3X your sales with the help of Visveya on Myntra and Limeroad. So, contact them to get expert advice for your e-commerce business & make the best out of it.
References:
https://brandequity.economictimes.indiatimes.com/news/business-of-brands/indias-online-fashion-market-to-grow-3-5x-from-4-billion-to-14-billion-by-2020/63313245
https://dsim.in/blog/2016/02/17/case-study-what-limeroad-takes-to-build-indias-largest-discovery-and-managed-marketplace-for-style/

https://www.mhlnews.com/transportation-distribution/article/22051729/delivery-time-top-priority-for-online-shoppers
Related Posts
Let Us Show You How We Can Deliver
Do call or e-mail and we'll be happy to come over to present our credentials and show you how we can transform your business.